Biotechnology: Science for
the New Millennium,
2012 Edition

Biotechnology is one of the fastest growing industries in the nation, with a high demand for entry-level workers and two-year and four-year college graduates. In the last 25 years, the US biotechnology industry has created more than 198,000 high-quality jobs, at over 1,400 pharmaceutical, agricultural, industrial, and instrumentation biotechnology companies , plus more at academic and government agencies (see statistics).
Ellyn Daugherty's 2014 Biotech Workshops

6/2-6

Bio-Link Summer Fellows Meeting, Berkeley, Berkeley, CA
• DNA is the Flash of Biotech: pAmy Analysis
• Proteins are the Cash of Biotech: Amylase Assays

11/12-15

NABT, Cleveland,OH
• 3-Week Biotech Unit for Biology
• The rAmylase Project

12/4-6

NSTA Area Conference in Collaboration with CSTA, Long Beach, CA
• Biotechnology: Good for Everybody
View PowerPoint® Presentations from
Recent Science Conferences
Feb2013_TulsaCC_The-rAmyProject.ppt (13MB)

Feb2013_NBEC_Lab6d_ELISA_Kit.ppt (5MB)

Nov2012_NABT_EnzAdv_Amylase.ppt (11MB)

Oct12_CSTA_EnzymeAdventures.ppt (13MB)

July2012_DNAflash-FasterBetterBiotech.ppt (26MB)

June2012_BioLink_new_rAmyProj.ppt (9MB)

Mar2012_NSTA_3-WeekBiotech_WS.ppt (7MB)

Mar2012_Secrets2012B_S4NM.ppt (19MB)

Mar2012_BiotechLabMgmt.ppt (5MB)

Mar2012_BiotechStudentRecruitment.ppt (2MB)

Mar2012_Cheese-making.ppt (3MB)
Sept2011_G-C_KickOff_SMBCP.ppt (3MB)
Mar2011_CFHS_HowToStartBiotech.ppt (39MB)
Mar2011_NSTA_HowToImplement.ppt (20MB)
Mar2011_NSTA_IonExchChrom.ppt (6MB)
Feb2011_pigIgG_ELISA.ppt (4MB)
Mar2011_CFHS_FunWithVolMeasure.ppt (6MB)
Mar2011_CFHS_ProteinSpec.ppt (26MB)
Mar2011_pAmy_REdigest.ppt (6MB)
Feb2010_FunWithPipeting.ppt (8MB)
Feb2010_B-S4NM_HiddenSecrets.ppt (5MB)
Feb10_IsolatingBacterialDNA.ppt (1MB)
Feb2010_pigIgG_ELISA.ppt (4MB)
Mar10_Cheese-making.ppt (3MB)
Mar10_SMCOE-ROPbiotech.ppt (10MB)
AprMay_BI_DNAproteinWS.ppt (28MB)
May10_BIO_5Steps_SolnPrep.ppt (6MB)
June10_NBEC_SMBCPoverview.ppt (10MB)
Jun10_SMBCP_DNAflashProtCash_WS.ppt (22MB)
Oct2010_BucksforBiotech_Start.ppt (36MB)
May09_AuthenticAssess.ppt (21MB)
July09_DNAproteinWS.ppt (55MB)
2008_NABT_LNtop10prot.ppt (39MB)
Asilomar08_BiotechEdForEB.ppt (39MB)
Nov07_BiotechGoodforEverybody.ppt (53MB)
Nov2007_EnzyAdventures.ppt (14MB)
2007BiotechSlideShow.ppt (22MB)
July2007_HRPadventures.ppt (16MB)
May07_BIO_SMBCPprogram.zip (544MB)
Mar07_BiotechCurric_CHS_SSP.ppt (6MB)
2007_BiotechLabPlanning.ppt (7MB)
Apr2006NSTABiotechBeyond.ppt (39MB)
How to Start a Career College Biotech Program (29MB)
Jy06_NH_BIOMAN_Panel.ppt (27MB)
Your Students In Biotechnology

Biotechnology: Science for the New Millennium is a comprehensive program that prepares adults and teenagers for a variety of post-secondary options including community or career college biotechnology certificate programs, four-year biotechnology degree programs, and industry workplaces. The vast text and laboratory curriculum was development and improved with input from an industry advisory committee composed of laboratory internship mentors. Biotechnology: Science for the New Millennium allows students to increase conceptual background as they build lab proficiencies. Science-bound and business-bound students benefit from the extensive skill development, science methods, and career exploration that permeate the curriculum.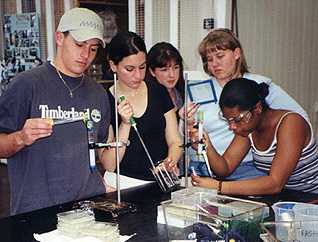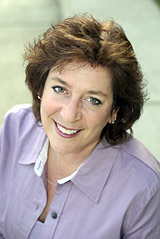 Ellyn Daugherty

Founder of the San Mateo Biotechnology Career Pathway (SMBCP) and Author of

Biotechnology: Science for the New Millennium

Biotechnology: Science for the New Millennium has been used in the San Mateo Biotechnology Career Pathway (SMBCP) courses for the past ten years. Started in 1995, SMBCP instructs approximately 175 high school students and 35 adults per year. Annually, 50-70 student interns complete internships with mentors at any of 20 local biotechnology companies. Although focused on the middle 50% of the high school student population, the program has students coming from all socioeconomic and academic levels.

Tested for ten years, Biotechnology: Science for the New Millennium contains enough activities for four years of curriculum, with the hope that schools develop programs that match the needs of their students, community, and industry. The text is presented in short sections so students may master the concepts as they build proficiencies in employable lab skills.

Ellyn Daugherty, Biotechnology Educator/Author
Biotechnology: Science for the New Millennium, 2012
(650) 400-9424 (direct)
(916) 358-9933 (fax)
Ellyn@BiotechEd.com

Curriculum Vitae / Professional History
Biotechnology: Science for the New Millennium text, lab manual, and student Encore® CD were released in January 2006. The Instructor's Guide and Internet Resource Center were released in March 2006.


Visit www.emcp.com/biotech for a tour through the text and lab manual.